Homereading: 7th, 8th and 9th class
Reading means a lot to me. I like the feeling of the book in my hand. I like learning from books. I think books are the best way to improve the language, besides going abroad to English speaking countries and being there the part of the community.
What about you? Do you like reading? Find out what the pupils think.
AG Nikšič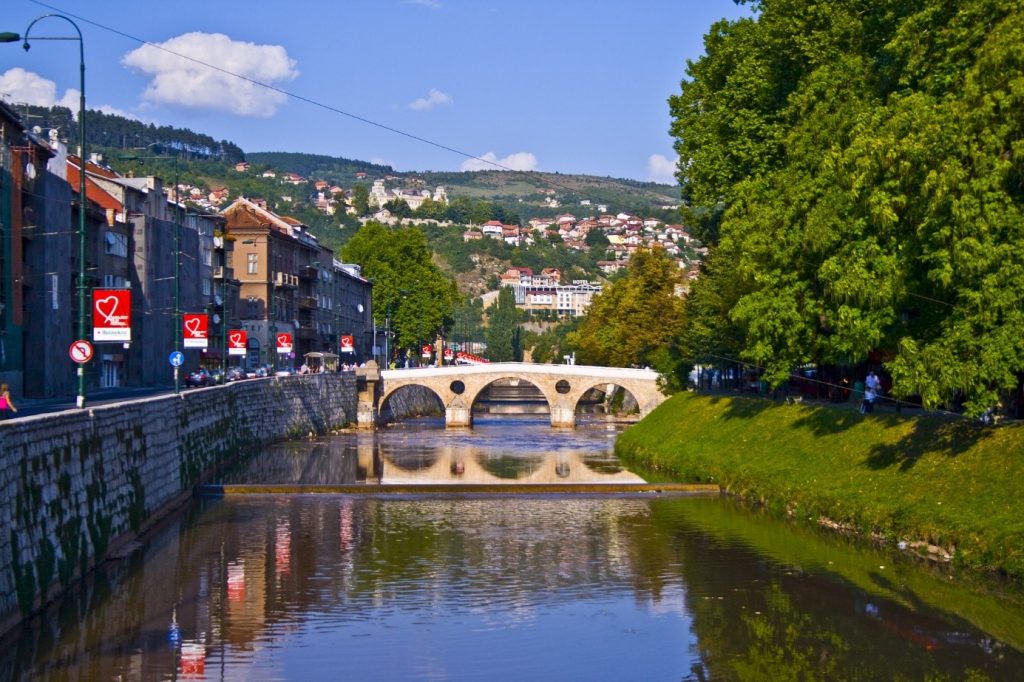 This is the photo of Sarajevo. Maybe this is the bridge that Kenan was trying to cross when he went to fetch water.
FRECKLES
The story talks about Susie and her big teenage problem – freckles. She thought she was ugly and nobody liked her. She had a friend called Donna. She was pretty and had no freckles. Susie was jealous of Donna, because of it. Almost all the boys at school liked Donna. In school Susie met a boy called Jack. And Donna liked him too. Jack invited Susie to disco. She was very surprised, because she thought Jack wanted to invite Donna and not her. Donna was very jealous of Susie and she didn't want to talk to her.
I really liked the book. The book was short and interesting. It describes what is going on in real life. I really like reading books like this. Some time ago I also felt the same, because I have freckles too. I would recommend it to all those who are not good at English yet as it is easy and does not have so many difficult words. It would be great if the book had even more complications and became even more interesting than it is.
I love reading at home because you can learn a lot from books.
Bina, 7.a
Pompeii: Tiro's story
The book is about a boy, Tiro. The master tells him and his older friend to go to Pompeii and buy four amphoras of garum there. They went, and when they were coming back, they were surprised by the eruption of the Vesuvius vulcano, Lyco almost died there, but Tiro saved him and they went back with just one amphora.
In the book, I like the way it all gets complicated and then solved. But I do not like the book because some words are difficult to understand and even the computer can't understand them.
I love home readings so we can have it again but with only one book and not two.
Nejc, 7.a
BILLY ELLIOT
Billy Elliot was eleven years old boy. His family didn't have much money and Billy's mum died. Billy was training boxing until he found out that he liked ballet. At first, dad and his brother Tony didn't agree with ballet, but then all the family was happy for Billy. Ballet teacher wanted Billy to go on ballet audition. Family agreed with that. On audition, Billy was chosen. Some years later he became a good ballet dancer.
I like this book because Billy fought for ballet and he didn't give up.
I think that homereading is a good thing because when you read, you learn new words and it makes your language reacher.
Dijana, 8.a
Anne of Green Gables
The book is about a little girl Anne, she was homeless, until Mr. Matthew snd Mrs. Marilla adopted her. She became a friend with another girl named Diana. She went to school and to church. In school one boy was making fun of her hair, because it was orange. One day when she went to church and on the way there she put some flowers on her hat and all the other kids in church thought she was crazy. She saved life of Diana's little sister. At the end, she became a friend with the boy that was making fun of her hair.
I liked the book because of how impulsive Anne was.
I think homereading is good and relaxing.
Luka Č., 8.a
AMISTAD
Cinque and other black people were kiddnapped in Africa and then brought to Cuba. Then they sailed to Connecticut, US. Meanwhile Cinque and other prisoners freed themselves and managed to kill the crew. They left only two Spaniards alive to sail them back to Africa, but they turned the boat to America. There they were thrown into prison. Theodore Joadson, Lewis Tappan, James Covey, John Quincy Adams and others heleped them to get free. That is how they became free men again.
The book was okay. The thing I liked about the book is that is written after real events. The book was too long, that's the thing I don't like about books.
The theme of homereading was interesting but I do not like to read. I think that two books for homereading are too much. It is very hard to remember all the information.
Ana Luna, 9.a
The Cellist of Sarajevo
The Cellist of Sarajevo talks about the war of independence of Bosnia from Serbia. It is happening in the 90s. It talks about people who live in Sarajevo during the war. The main characters are: The Cellist who has made an oath to play on the street for 22 days for the massacre that happened. Next one is Arrow who is a sniper that protects the Cellist and there are two civilians called Dragan and Kenan. Each one of them has a different perspective on the war. The book shows us all four sides of the same coin.
I liked the book because I am a history fanatic and I love to read about our past. It also shows how dark the war times can get and makes us realize that we do not want war.
I like home reading because I wouldn't ever think of picking up this book, but now that I have read it I do not regret a single thing.
Bruno, 9.a
(Skupno 116 obiskov, današnjih obiskov 1)